Mountain Villas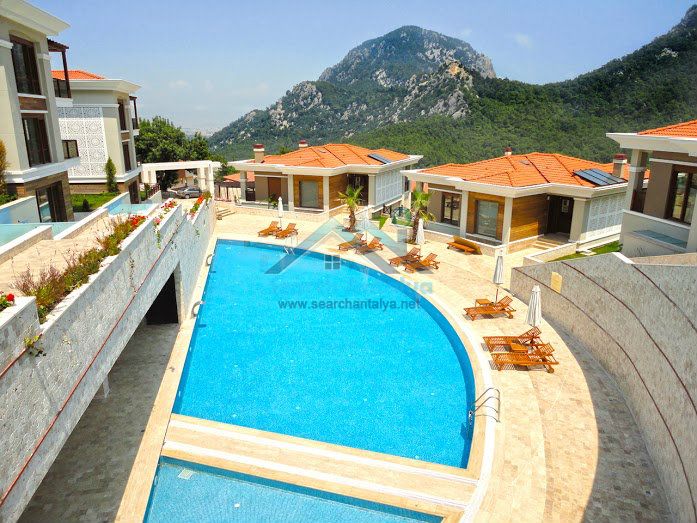 click image to enlarge
---
Mountain Villas ID : ANT-1025
Overview:
Surrounded by pure nature, the "Mountain Villas" is a modern countryside villa
project, situated 202 m above the sea, on a slope of a hill, overlooking a valley with a fabulous view of the mountains and forest.
"Mountain Villa" is a private residence, far from the bustle and heat of the city, so here you
can enjoy the fresh air of the mountains and the undisturbed beaty of nature.
At the same time if you want to add a different color to your holiday you will be
able to reach one of Antalya's most popular shopping centers, within a 15 km drive from the Residence, and the city center is only 20 km away.
Enjoy silence of the Taurus mountains...
The "Mountain Villas" is one of the few projects where you can be so close to the urban life of a major city, while enjoying the restful privacy of nature. An expert team has carefully worked out the design, and the highest quality materials were used in construction. Convenience is a top prioirtiy in every aspect of this luxurious project. It is ideal for a holiday or permanent residence; it meets the expectations of those who seek luxury, natural beauty, and privacy.


General Features:
Outdoor swimming pool with children section
Decorative waterfall passing throughout the complex
Landscaped garden with sun-chairs, umbrellas and showers
Sauna
Decorative lighting within the complex
Pool cafe bar
Remote controlled main entrance door with private code
Private car parking for each villa
A vehicle allocated for the residents
Emergency power generator
Central satellite TV system
24/7 Security system with video and laser protection of the site entrances
Water treatment system
Caretaker services
Features of the villas:
"Smart Home" security system (video intercom, fire alarm, burglar alarm)
Air-conditioner in each room
Built-in kitchen equipment: cooker, aspirator, oven and dishwasher
Fireplace
Floor: granite, ceramic tile, marble and laminate
Foundation coating system; heat isolated exterior walls; roof: roof tiles to be set over water and heat insulation
Wooden-like PVC Windows, electric shutters, thermo glass
Paintable wall paper
Electrical water heater
Wood-colored steel entrance door
Special design wood veneer or lacquered interior doors
Coat cabinet in the hallway
Jacuzzi
SMART HOME SYSTEM DESCRIPTION:
Telephone switchboard for communicating between the security check point
Camera system: whilst security calls the resident, the image of visiting
guest can be displayed on resident's intercom
Supply adapter for security cameras
Distribution system of surveillance camera images to the villas (1
distributor 4 outputs)
Dual input LCD monitor in each villa for viewing the doorstep and the
security check point
Camera showing the doorstep of the villa
Supply adapter for the monitor
Tasks of automation alarm switchboard in the villas
Internal calls within the villa
Control of in-house security systems (burglary, fire, gas leak)
2 timer controlled circuits (eg; doorstep light can be activated if desired)
2 circuits controlled remotely by phone or in-house (eg; before coming to the villa air-condition can be activated)
Motion sensor detects moving bodies over 25 kg
Smoke detection sensor in case of fire
Gas sensor detects gas leaks
Flash siren alarms are activated after niose greater than 110 decibels is detected.
Phone enabling the security to monitor the status of the villas
Contact Form
ask for price
Currency Converter
Property Details
ID ANT-1025
LocationAntalya, Konyaalti
Rooms4+1,4+2,6+2
Bathrooms1, 2, 3
Balcony1, 2, 3
Size from 318 m²
Size to 398 m²
Storey3
ConditionReady to move
To city12 كم
To sea8 كم
Distance to airport30 كم
Completion year2014
Priceask for price
Print this page
Show on Map